With temperatures in the South already reaching 90 degrees and the East seeing warmer weather than usual for this time of year, mulch is being laid, lawns are going green and pool covers are coming off. If you run a pool company or landscaping business, it's likely your phone hasn't stopped ringing and your workers may be already be putting in more hours than this time last year.
Keeping your mobile workers accounted for and on task is the best way to kick off a successful outdoor season. Here's why employee time keeping needs to be your first order of business.
Sit at the pool. Not at your desk.
A predicted hotter than normal summer might be good news for your business, but leave little time to get your toes in the sand. If you're still using manual timecards or relying on a verbal recounting of worker hours, you're set up for a summer filled with paperwork – rather than pool time.
When the sun is shining on a Friday afternoon, the last thing you or your bookkeeper wants is to be stuck in the office tracking down workers' hours and processing payroll. Timesheet Mobile customers report dramatic time savings in both these areas. Workers aren't spending valuable time traveling to and from the home office to drop off timecards, nor are they having to guesstimate reported hours to their managers. Since managers and employees can view hours worked in real time, they are on the same page and therefore, payroll disputes are eliminated. Easy integration with QuickBooks, FreshBooks, Sage and ADP simplies the entire process and drastically improves efficiency.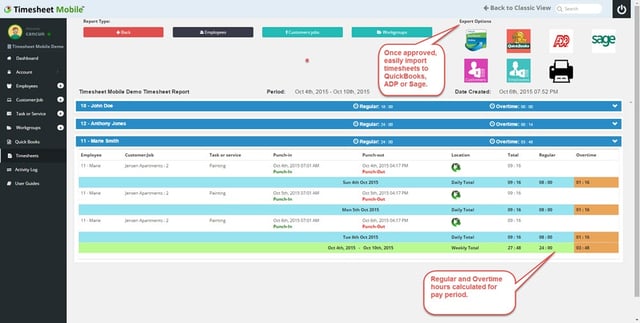 Summer schedules
One of your workers is installing a new liner in a pool in the city, while another is mowing and edging on a farm up North. How can you be sure that your mobile employees are arriving on time and that they're clear about their daily job assignments?
Using Timesheet Mobile's Scheduling setting, you can drag and drop your customers and jobs directly into your employee calendar. Schedule up to 3 days at a time or create a recurring job within an employee's schedule. On their smartphone app, employees can view their schedules and will even get reminders to clock in and out online for their scheduled shifts upon entering a configured geofence-enabled jobsite.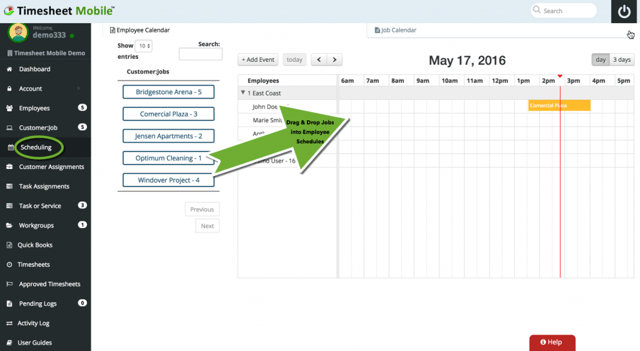 You can click on Add Event and create a recurring job within an employee's schedule or on Task Assignments on the main dashboard screen to add job duties for each employee.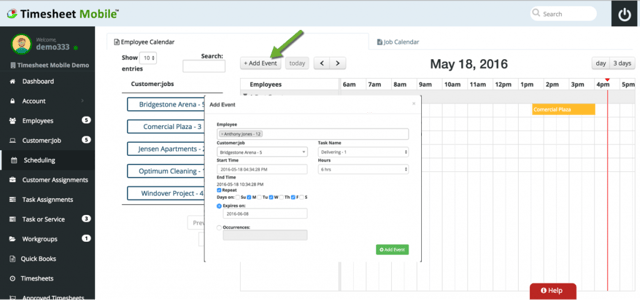 Overboard on overtime
Clients want pools installed, flowers planted and stone laid – yesterday. Creating an outdoor oasis takes time and deadlines need to be met. Given that, worker hours can quickly get out of hand and all of that overtime can wreck havoc on your the bottom line.
With Timesheet Mobile, owners and managers can set overtime thresholds, allowing enough cushion to make on the spot schedule adjustments to minimize or avoid overtime altogether. Managers can also opt to receive email alerts, notifying them when employee overtime hours are accumulating. And smartphone app users automatically receive an Over 10 Hour Alert when they have been punched in for over 10 hours.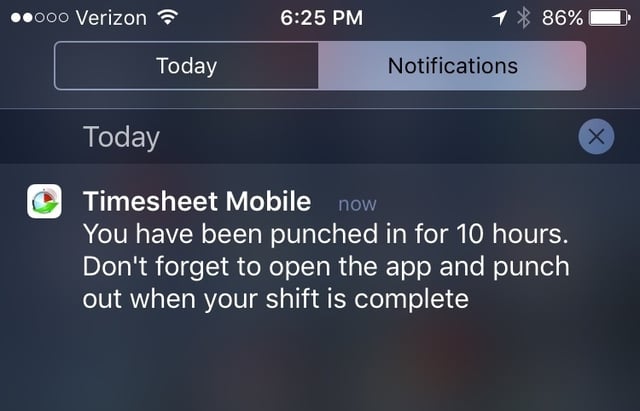 Avoiding unneccessary overtime is one of the easiest and most important things you can do to save your business a ton of money. An employee time tracking system ensures that every hour – regular or overtime – is accounted for. No surprises.
Summer is never long enough. Don't waste another minute stressing out about employee hours and locations. Capitalize on your busy season and be more profitable by tracking employee hours with a smart, simple and efficient system.