Having been in business for nearly a decade, One Source Building Services (OSBS) knows a little something about innovation.
A leader in commercial construction, headquartered in Plano, Texas, this family business employs over 100 people, most of whom report to some 10-12 jobsites all over town. While cutting edge in their building methods, the company was anything but modern when it came to managing employee hours and locations.
How it looked on paper

Blueprints are the foundation for every construction project. While putting pencil to paper works well for design, it's an almost certain nightmare for accounting. For OSBS, keeping track of hours for over 100 employees and some 25-30 vendors – all on the honor system – was just that.
Project Manager, Christopher Lloyd, explains that all employee time tracking was done on paper: manually signing in with the date, time in, time out, job code and hours. And while the company has foremen that run the jobs and superintendents that oversee the sites, these managers travel back and forth between jobsites all day long, making it impossible to keep an eye on everyone.
Lloyd knew buddy punching and ghost employee fraud was an industry-wide problem. He concluded, "With little employee accountability, we started wondering … is this more widespread than we think?" OSBS Vice President, Brandon Howell, then tasked Lloyd to "find us something with a geofence." The resulting search led him to
.
"We really liked the ease-of-use of the Timesheet Mobile platform
and the geofence is what gives us peace of mind … it's HUGE."
Christopher Lloyd, One Source Building Servicing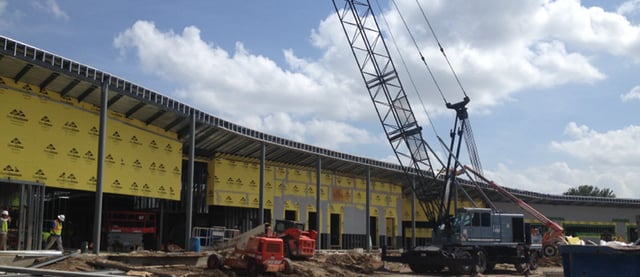 Right on schedule

Since every OSBS employee uses a smartphone, this allows the team to take full advantage of everything Timesheet Mobile has to offer. Geofencing is king, and Lloyd loves the accountability it provides, saying, "the fact that we can run reports per customer jobsite to make sure the guys are there at any one time is invaluable."
"We can go look at the jobsites on the dashboard in real time and see where everybody is, that they're clocking out for lunch, that they're actually where they're supposed to be …"
Christopher Lloyd, One Source Building Servicing
With geofencing keeping employee accountability in check, Lloyd is quick to rave about other valuable features, pointing out, "scheduling is big for us too!" Unfortunately, the paper trail didn't end with timecards. He explained, "We were also paper scheduling everybody everyday. Taking a picture of 100 employees at 10 different job sites and the foremen having to send those to the office from their phones for approval … it was very labor intensive."
Lloyd appreciates being able to generate reports, letting him know where they are within the job, if they are profitable or not, and ahead of schedule or behind. The "tasks" feature – allowing employees to clock in and choose what they're working on – has also become a lifesaver. Lloyd adds, "it's very important because it provides a snapshot of where we are in the job."
Just scratching the surface

Only two months into using Timesheet Mobile, Lloyd already knows what's currently working and what's on deck. He appreciates being able to collaborate and communicate directly on features specific to his industry.
"Your software and development guys are great to work with; They look at our recommendations, see if it's in the pipeline, and if not, they'll take it under advisement. I don't wait for very long to get an answer back on any ticket."
Christopher Lloyd, One Source Building Servicing

Having found a reliable solution for both employee scheduling and accountability, Lloyd is looking next to incorporate billing and invoicing tools.

With an overhauled system that's clearly working – the company estimates they are now saving around $5,000 a month – there's no ceiling on this success story.