When you're running three businesses and need to keep track of employees whose schedules are constantly changing, chances are the paper timesheets stack up while the accuracy declines.
With too much of her time and energy spent trying to make sense of inconsistent time cards, Flowmaster/PermaJack of Mid Mo/KLS Paving & Construction LLC Office Manager, Kelli Smith, desperately needed a simple, streamlined and reliable way to keep track of all of her Missouri-based employees and jobs.
The trouble with time cards

As her companies grew, Smith found herself overwhelmed by the sheer volume of paperwork crossing her desk each day. She recalled, "Prior to using a mobile timekeeping system, every guy had to write down their own times and things were definitely getting missed – for example, they were taking lunch, but certainly not writing it down."
Rounding time was also an issue. She pointed out, "They were showing up at 8:15 a.m. and putting down 8:00…they were rounding off, not calculating fractions and decimals." However, any small business owner knows, those extra minutes add up quickly and have a dramatic impact on the bottom line.
"What can I do to make my life easier?"
Knowing that the situation would only fester as they continue to add employees and customers, Smith knew it was time for a change. Given that all of her workers own smartphones, she quickly decided that a timekeeping app would be the best fit.
She explained, "I definitely did my research! I solicited opinions from other contractors, and I tried a lot of options in this space." Her preliminary thought was that most were just too complicated and feature-heavy, but not in a good way.
Then she signed up for a free 30 day trial with Timesheet Mobile.
Smith concluded, "Timesheet Mobile was, by far, the easiest to use. There just wasn't a bunch of extra things to do. It wastes time if our guys have to sift through a bunch of options. With Timesheet Mobile, they select the customer, they punch in and they punch out. It's easy for them and easy for me to explain to them."
Why it works
Perhaps the biggest challenge in transitioning from traditional methods of timekeeping to more high tech options is the learning curve amongst employees. From veteran workers who prefer to stick with what they know to those concerned about privacy and the threat of "Big Brother" watching them, the introduction to mobile employee time tracking can be tricky.
Smith recounted this period saying, "The setup process was actually really simple! When we first started, I called everyone together and explained the system. Now, I mainly let the leaders and supervisors of each crew do the training."
As for privacy concerns, Smith admits experiencing some initial pushback about being "tracked". She approached the issue in a way her workers could relate to and easily understand – explaining the mutual benefits of a timekeeping app – and it worked. She told her guys, "Say a service call customer complains that you weren't present at a certain time. Now, that allegation can be easily researched and verified. This system protects YOU from false claims and lost wages."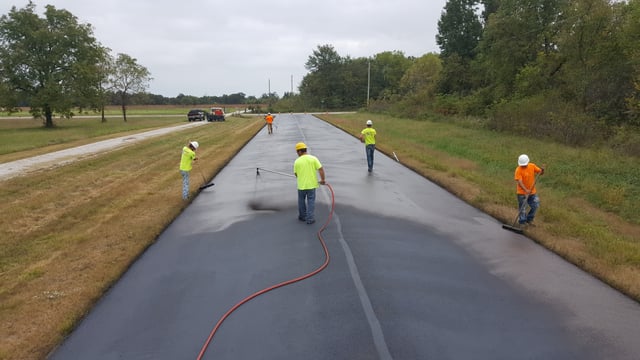 Proof in numbers
Missouri is one of thirty states that has "prevailing wage" laws. These higher wage jobs are typically public works construction projects, and Flowmaster and KLS Paving & Construction LLC contract a large percentage of these jobs. Smith pointed out that at a rate of $30-35 per hour per worker, timesheets being off even thirty minutes is a major problem, seriously affecting the bottom line.
Making the comparison between the days of using paper timesheets and the current timekeeping and payroll process using Timesheet Mobile, Smith pointed out the dramatic savings that her companies are experiencing.
"We are saving $400 to $500 DAILY on wages! Also, knowing that there is GPS within the timesheet app and the guys have to be clocking in when they approach the geofence of their job – or I'm going to question it – that's made everyone a little more honest."
Kelli Smith, Flowmaster/PermaJack of Mid Mo/KLS Paving & Construction LLC
Trust me, I've tried it!
With so many timekeeping options out there, we asked Smith what advice she would give companies who are contemplating the move to mobile. She concluded, "I did the research for you. Don't waste your time. Just get Timesheet Mobile!"
She went on to praise the quick response time from customer support, the ability to get questions easily answered through email and the benefit of dealing with the same people – rather than being shuffled around and having to reiterate a problem.
"The Timesheet Mobile team is constantly updating the system and making improvements, and if I do have a suggestion, you guys are usually already on it or you find a way to make it work for us."
Kelli Smith, Flowmaster/PermaJack of Mid Mo/KLS Paving & Construction LLC