Nostalgic AIM users shed a collective tear as news that the pioneering chat app will close its windows forever at the end of this year. Pushed to the sidelines by the likes of Facebook and Google Hangouts, AOL can no longer compete. As tech is constantly evolving, business leaders continue to seek out the best chat apps for employees at work.
There are a number of reasons why group chat apps are better in many situations than conventional alternatives, such as phone, email or even face-to-face meetings. They apply to traditional workplaces, but the advantage is particularly pronounced for the increasing number of companies employing a mobile workforce. Considering that communication problems are one of the top reasons why projects fail, any edge you can gain in that domain is worth exploring.
Better than a phone call
When you give somebody a call, they have to pick up their phone and turn their attention entirely to their conversation with you. If you're calling with a question, you may have to wait on the line while they come up with the answer. In contrast, if you're using a group chat app, you can fire off the question and then turn your attention to something else while you await a response.
Even a phone conversation that involves one quick question and answer tends to be longer than the same interaction on a group chat app. Why? Because it is hard for people to talk on the phone or in-person without engaging in a number of standard pleasantries. We're simply wired to do that culturally.
Perhaps the greatest inconvenience that phones pose is the time wasted while trying to connect with somebody in frustrating games of phone tag. There is the time you spend waiting for the person to pick up the phone, as well as the subsequent time you spend listening to their answering machine and leaving a voicemail. That entire process uses much more time than simply shooting off a message via an app.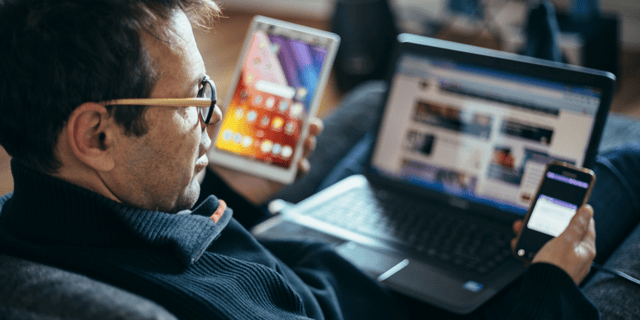 Easier than email
It is confusing and time-consuming to make sense of a lengthy chain of emails. But it's what you often end up doing in project management when you're corresponding with a large number of people involved in the same project. Emails come in, minute after minute, as different members of the team chime in. Who is responding to who? And where did that email that included all of the important information go? It's likely sandwiched between a dozen messages that simply say, "Thanks!" or "Have a good weekend!"
Chatting apps are a far more organized means of communication because you can scroll down through the dialogue, making it easier to follow the course of the ongoing conversation – whether you're a construction project manager or a consultant. In addition, these apps allow you to search for terms within the conversation so that you can quickly hunt down a piece of information and the surrounding context.
More efficient than meetings
One of the greatest threats to workplace productivity are long, meandering meetings, particularly if they include people whose work is not affected by the meeting topic. Unfortunately, it's a common occurrence in the world of business: a boss demands a meeting or conference call, but for most of the attendees, large parts of the conversation have nothing to do with their duties. Perhaps only five minutes of the hour-long meeting or call was relevant to one of your project managers. The rest of the time was spent talking about other projects, but he still felt obligated to stay in the room or on the line, rather than getting back to supervising his team.
Using an app, employees can tune in or tune out based on whether it's relevant to their work. Timesheet Mobile's Project+ app, for instance, allows managers, workers and clients to easily communicate via group chat or private message. If you're running a business that involves remote employees at multiple sites (catering, cleaning service, construction, etc), you can have different team chats running based on clients or jobs.
Instant notification
In an age when you can expect every member of your team to have a smartphone with them at all times, apps are likely the best way to ensure that they get a message ASAP. Even though you can set up your email app to send you push notifications, those apps are notorious for experiencing issues that prevent the phone user from being alerted to an incoming email immediately.
Chat apps, however, are built on the premise of immediate notification. A message is sent and instantly pops up on the recipient's phone. It's also much easier for a user to immediately type out a response as well as to pause a message and come back to it later. The Gmail app, in contrast, will save a message you're writing as a draft and require you to re-open it every time you leave the app.
Status updates
Why hasn't somebody returned your call? Why haven't they responded to your email? Chances are, unless that person is on vacation, they're not going to bother setting up an automatic email response or record a new welcome message on their answering machine to let you know where they are.
Chat apps allow you to quickly note or change your status so that those trying to communicate with you understand whether you're immediately available or busy with something else. A status that says "Back from lunch at 1" lets your coworkers know exactly when they can expect a response.
Effective conversations
Conversation and camaraderie are pillars of an effective, engaged workforce. However, it's hard to maintain the traditional bonds that hold workers together with mobile workers who are dispersed across different job sites. The ongoing banter – some of which is explicitly tied to work – helps promote workplace cohesion.
Chat apps allow increasingly mobile workforces to engage in a more conversational, intimate manner than other technology. Managers and workers can trade messages throughout the day without having to pick up the phone or write an email. The ongoing dialogue keeps employees better informed and perhaps more importantly, better connected.