Technology is making it easier than ever for companies to be part of the green economy. Besides helping to preserve the planet for future generations, turning to more sustainable solutions at work is often a very savvy business decision. Going paperless is one of the easiest ways to support both Mother Nature and your business.
In celebration of Earth Day this past weekend, your business can get behind the global movement to foster a healthy and sustainable environment. Your contribution can be something as simple as setting up a recycling station at the office or a more comprehensive initiative of switching from paper timesheets to a green employee app, powered by a web based timekeeping system.
Here are seven ways for your business to reduce its carbon footprint – without breaking the bank.
Internal memos, handbooks and other documents
The easiest way to reduce your paper usage is to simply make a decision to stop printing materials that can otherwise be shared electronically. Rather than distributing printed memos to employees, just email them. In today's digital era, that's likely the way most of your workers would prefer to receive the information anyway. This is not only good for the environment, but also reduces what you spend on ink, paper and waste/recycling collection.
Going digital also makes it far easier for employees to offer feedback by responding directly to the memo via email or putting comments into a shared document on Google Docs. This is a simple solution for editing and managing version control. Rather than printing out an employee handbook, for instance, you can have a company-wide shared document that you can update as needed.
Fax machines
Alhough fax machines are old technology, there are still a number of businesses and government agencies that continue to insist on doing business by fax because they are a reliable way to transfer sensitive documents.
The good news is you don't have to buy (or keep) a fax machine! There are now plenty of digital solutions that are equally capable and don't require you to have access to a bulky in-office system. eFax, for instance, allows others to fax documents that you receive as emails, eliminating the need for paperwork altogether. Similarly, you can send your own documents via email that can be delivered to a fax machine. It might be a while before the fax machine is entirely extinct, but your business can eliminate it today!
Signatures
You no longer have to print documents that need to be signed. DocuSign and similar technologies enable you to sign the document digitally (with your cursor) and email it right back to whoever sent it to you. While some people may still insist that you pen a signature, electronic signatures are just as valid, according to federal law, so there's no reason to shy away from the technology.
Not only does this save paper, but it saves you the hassle of having to keep track of printed legal documents. It's much easier to keep them as records in your email or a cloud-based storage space, so you can search for them by name and find them at anytime.
Timesheets
There are numerous reasons why web based timekeeping is the way to go. For starters, Timesheet Mobile ensures a level of accuracy that you just can't get with archaic job site time clocks. No matter where your employees are working, you can set up a virtual perimeter at each job site that reminds them to clock in and out online. The system can then be enabled to generate geofence alerts to the appropriate foremen or managers. That makes it much less likely that you'll be hearing from a worker who says he or she worked the other day, but simply forgot to punch in.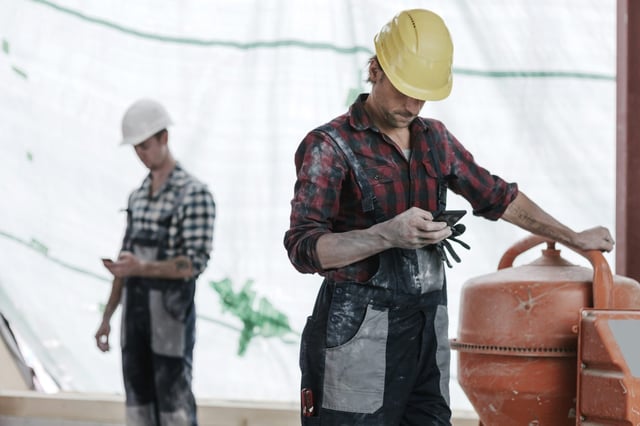 Secondly, rather than spending countless hours assembling manual timecards for payroll, Timesheet Mobile is time clock software compatible with Quickbooks, FreshBooks, ADP and Sage, eliminating the mountains of tedious paperwork. All of your information becomes centralized, making it much easier to analyze your workforce and identify trends and/or problematic behaviors. Implementing a cloud based employee time tracking system is also very cost-effective. In fact, one business reports that the move has resulted in savings of over $100,000 per year!
Receipts
Technologies such as Square have allowed merchants and consumers alike to move to entirely electronic receipts. When you no longer have to hold onto thousands of paper receipts, you may find that you don't even need to hire an accountant to do your bookkeeping. But more importantly, Square has made the entire payment system portable, since all you need is a smartphone and a thumb-sized credit card reader. You can take payments from customers anyplace, anytime – all while guaranteeing them a secure record of their transaction.
Checks
There are now a myriad of alternatives to paying employees and vendors by check, including electronic deposit, PayPal and QuickBooks Payroll. Salaried employees, in particular, will appreciate knowing that their pay is automatically deposited at a set time every week or month.
But even if you are receiving payments from those who prefer to use checks, you can still make your part of the transaction paperless by depositing the check electronically on your own smartphone. This move not only saves trees – it also saves you time and likely, a gas-guzzling trip to the bank.
Paper records
While you might be able to stop using paper, you will likely have to wait a little longer until everyone else you interact with stops bombarding you with piles of it. The good news is that due to the increasing sophistication of scanning technology, you no longer have to rely on file cabinets to keep those records. There are tons of apps that allow you to quickly scan a document to store on any of your devices and easily share as a PDF document.
The best scanning apps also include Optical Character Recognition (OCR) that recognizes the words on the paper, allowing you to search for terms within the document, making it much easier to find information that you need. Abbyy FineScanner, for instance, was chosen by PC Magazine as having the highest-quality OCR of all scanning apps.
Endless paperless options
Technological transitions are not always easy. When a company has become accustomed to doing things manually, employees may habitually continue to print everything out, rather than seek out a new system. Inspiring the discussion to go paperless and making the permanent switch to
will produce a long-term gain for your business, your employees and the planet.