One employee forgets to clock out, while another blanks on an entire shift. Cue the frantic phone calls to the bookkeeper and the urgent emails flooding their supervisor's inbox. While this used to be par for the course for businesses employing hourly workers, there is a new normal when you choose to enable our latest feature: Timesheet Approvals.
Activate it!
Via the dashboard, managers will need to select Settings from the left hand column and opt for Timesheet Approvals to be enabled. Approved Reports and Pending Logs will be added to their navigation menu.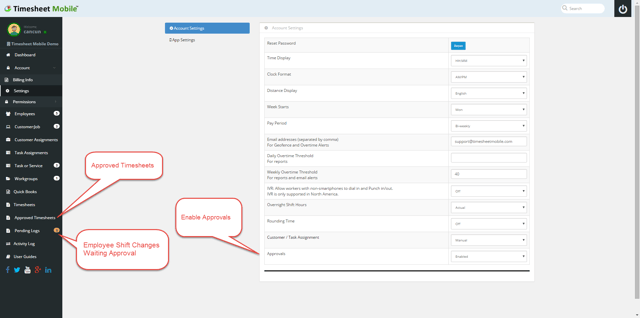 Anytime edits
Using their Timesheet Mobile app, employee shifts will be captured on their smartphone. During any work week, employees can correct timesheet mistakes as they happen. Punch in time, clock out time, customer jobs and tasks can all be adjusted on the spot – as opposed to scrambling at the end of the week. Employees even have the ability to go back in and enter a shift that they may have neglected to log. Errors that used require a phone call or email no longer clog up admin mailboxes.
When employees submit timesheet changes, these will show up under Pending Logs on the dashboard. Likewise, as soon as timesheet approvals are approved (or rejected), employees will receive a notice on their smartphone. This mutually beneficial system improves communication between managers and employees, and encourages workers to use their timesheet app.
Supervisors on construction sites who are already juggling several jobs and multiple tasks don't have the time to monitor every employee's hours. Moreover, empowered employees who have the ability to easily amend and access information on their own can spend more time focusing on their jobs – not on missed hours or fogotten shifts. To simplify the process even further, managers can do timesheet approvals for those in their workgroup.
Inaccurate or missing employee timesheets cost your business big money. Stop chasing down hours from your employees – most of which are estimates, best guesses, or worse. Timesheet Mobile puts employees in control by keeping their time, tasks and mileage organized. And Timesheet Approvals helps ensure that all of their time – scheduled shifts, make up shifts, switched shifts, overtime – is accounted for. Discrepancies that occur with timecards and verbal information exchange are no longer an issue.
When bookkeepers aren't saddled with the task of filling voids on employee timecards, they become far more efficient in their role. Timesheet Approvals ensures that once timesheets are reviewed and authorized by the appropriate manger, they are ready to be processed for payroll. With all of their newfound time, it's likely that those who consult will be able to take on new clients. That's why we offer a generous Partner Program for your hard-working bookkeepers and accountants.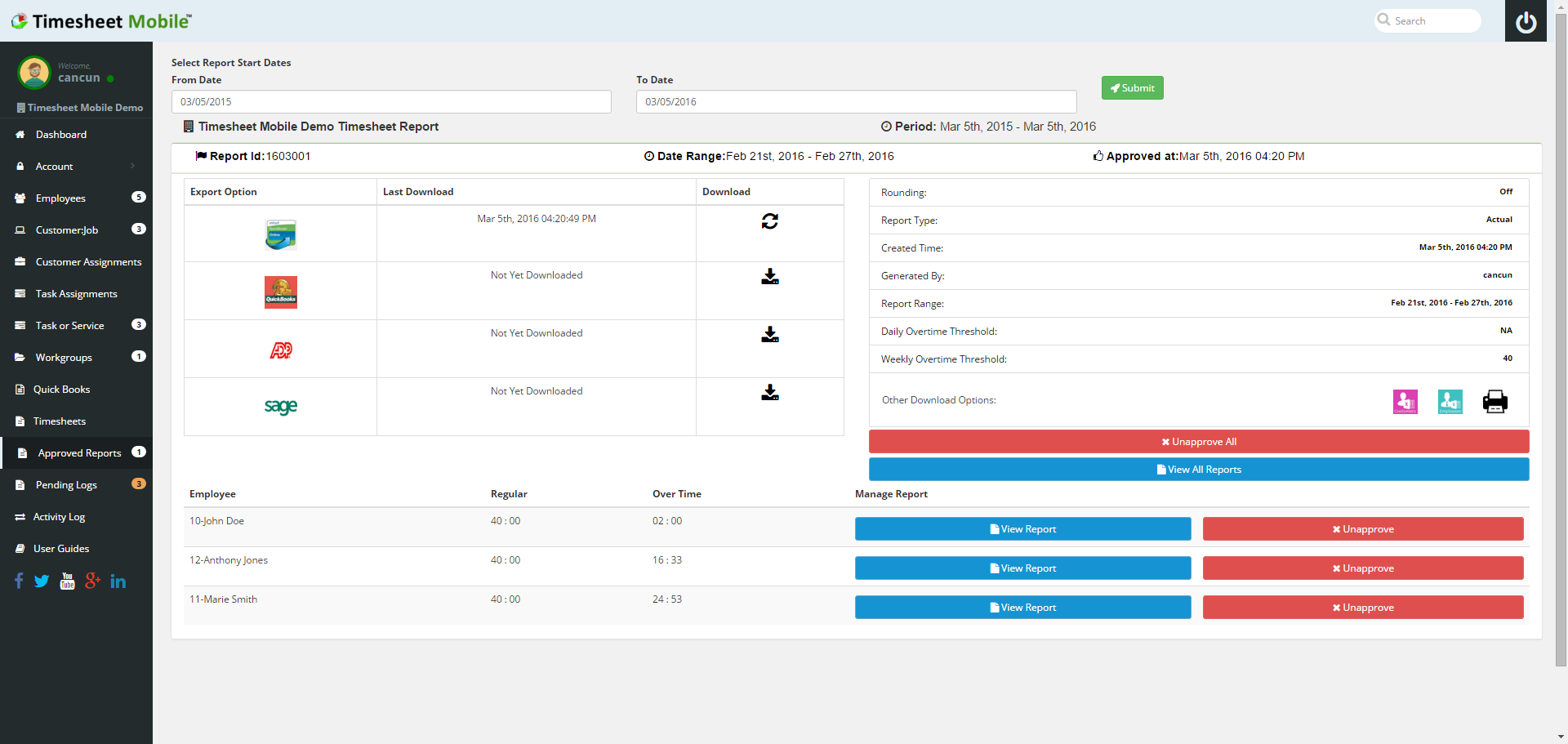 Timesheet Approvals is an optional, yet powerful, tool designed to empower employees, improve compliance, streamline communication and make the payroll process much less complicated. The feature is included with your monthly Timesheet Mobile plan.