How Timesheet Mobile helped Kansas City's most decorated remodeler construct a plan for employee accountability...
To be the best of the best in any category, businesses need to be firing on all cylinders. And when customer satisfaction ratings are what puts you on the map, your employees need to be executing at the highest level. This is a tall order when your entire staff – from field construction crews to in-house bookkeepers – are bogged down with paper timecards and punch clocks.
In 2013, an issue with FLSA compliance spurred Jericho to take a closer look at the limitations of manual timekeeping methods. Jericho Home Improvements Chief Data Officer, Lori Cummings explored "many options" in the mobile timekeeping space, finding most to be expensive, complicated and unable to meet her company's specific employee time tracking needs. She found Timesheet Mobile to the best overall value – with many premium features that Jericho needed included in the monthly price.
"Timesheet Mobile added a much-needed level of accountability for our employees."
-Lori Cummings, Jericho Home Improvements, LLC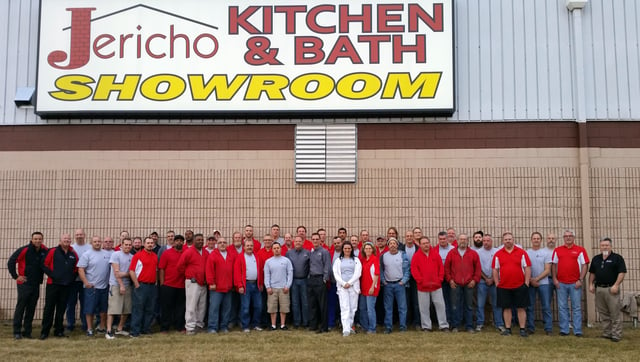 More results. Less overtime.

Before finding Timesheet Mobile, office and warehouse employees punched a time clock (that didn't work much of the time), while Jericho's field employees were either writing down their times down at jobsites or getting paid by the project – and not keeping track of their time at all.

While every employer wants to trust their people, the honor system is anything but accurate. Timesheet Mobile provided a "cost-effective solution" and Jericho is experiencing bottom-line altering results.

According to Cummings, "We are seeing significantly less overtime*, and with geofencing, we know where our employees are. With our old system, an employee might not even show up to the job site and we wouldn't know it … sometimes until an upset customer called in! Timesheet Mobile makes it easier for our project managers to know where their team members are without having to hound them."
Small but mighty

When asked about her experience with Timesheet Mobile's customer support and satisfaction, Cummings gushed "I email [comments and feedback] all the time, and most of the features I've requested have now been incorporated. I'm thrilled with all of the new changes!"

As a small business owner, she knows the value in super-serving the customer, and she is "very pleased" with the service she has received from Timesheet Mobile.
"Timesheet Mobile is a great management tool ... and I appreciate the peace of mind
knowing where my people are."
-Lori Cummings, Jericho Home Improvements, LLC
*Cummings estimates that employee overtime has been reduced by approximately 20 percent, with the added accuracy of "down to the minute" clocking.