Employee time tracking has never looked so good!
Introducing our all-new user interface, featuring a sleek design and robust features combined with the very latest geofencing technology. Our system is more user-friendly than ever, so you can be up and running within minutes.
Rather than having to click thru to view each section, users can now access all tabs at a glance. Employee locations can be viewed via the live map or by checking the list of individuals below it.
The left menu column contains several new features and options, all designed to make employee time tracking a more detailed and mistake-proof process. Start by clicking on Employees to add their information, being sure to include their mobile phone number. Selecting Customer:Job allows you to enter the exact geofence for each company. When an employee is at a job site and within the geofence, the globe icon on this page will turn green. If an employee is outside the job geofence, the globe will appear red. When a customer is inactive, the globe will be blue.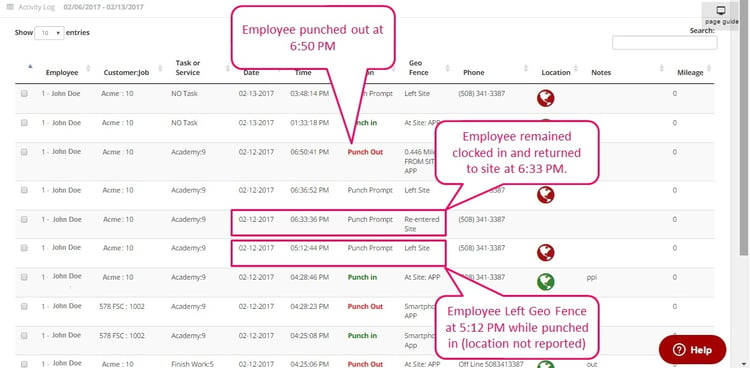 Next, click on Account and select the new Settings tab. Time can now be viewed as hours and minutes, distance can measured in miles, workweek start day can be set accordingly, and daily and weekly overtime thresholds can be set. Managers can opt in for email alerts, notifying them when employees are outside of the job geofence or when overtime hours are accumulating.
The App Settings tab allows managers to set default app settings employees will see on their smartphones. Jobs, tasks, mileage and notes are just some of optional features that may be selected when setting up your employee time tracking app. Turning on Location Enforcement ensures total compliance, in that employees will not be able to switch it on/off on their own. As always, location coordinates are obtained for the sole purpose of accurately tracking on the clock employees. Should an employee leave the jobsite and forget to punch out, we will alert the employer – via email – that their worker has left the jobsite geofence, but will not reveal any location information.