Is your business ready for the proposed DOL overtime rules change?
Be proactive in planning for the likely amendment to overtime eligibility.
Nearly a year has passed since the Department of Labor proposed more than doubling the salary threshold that determines which full-time workers are eligible for overtime. This new rule is estimated is set to go into effect on December 1st.
The current overtime threshold for salaried employees is $23,660. The proposal would bump that number so that those making less than $50,440 a year would be eligible for overtime. President Obama cited outdated overtime regulations as a catalyst for issuing the executive order. The President further stated that this change would be fair for both workers and business owners.
Approximately 5 million Americans are set to benefit from the DOL overtime rules change, but business owners, on the other hand, are scrambling to find ways to comply with the impending change. While it may seem absurd to more than double an employee salary to meet the new threshold, the implications of paying that employee overtime can have an even more significant impact on the bottom line.
Tracking and managing employees is about to get more complicated and time-consuming than ever before. Not only will business owners have to continue to track hourly employees, but also make certain that salaried employees are staying below 40 hours per week. You could hire a full-time employee to manage compliance reports, or you could work smarter. Implementing a time management system that tracks all employee hours – including overtime – is an efficient and cost-effective solution. Timesheet Mobile makes it easy for owners and managers to set overtime rules thresholds, allowing enough cushion to make on the spot schedule adjustments to minimize or avoid overtime. Email alerts are issued when an employee exceeds their allotted hours. Smartphones users will see their hours tracked in real time via the Timesheet Mobile app, so there is no confusion on either end.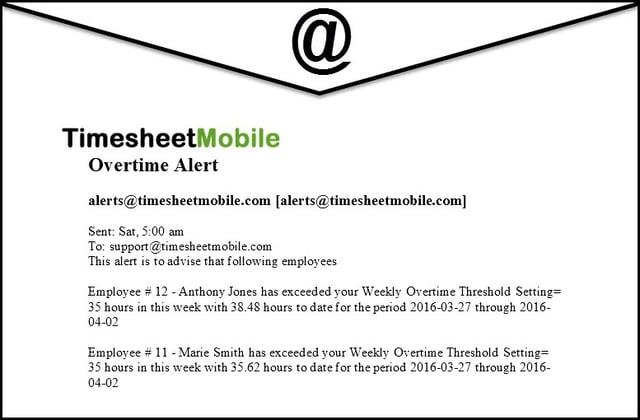 Now is the ideal time to take advantage of our FREE 30 day trial. Enjoy unlimited usage for an entire month. Overtime is encouraged!