We have just released an exciting new update to our smartphone app that incorporates feedback from our customers and makes it even easier for your employees and administrators to use. A fresh new look, packed with functionality including color coded user state, real time punch clock, total time worked for the day and week, all synchronized with your Timesheet MobileTM account. Employees can now view their work week status at all times.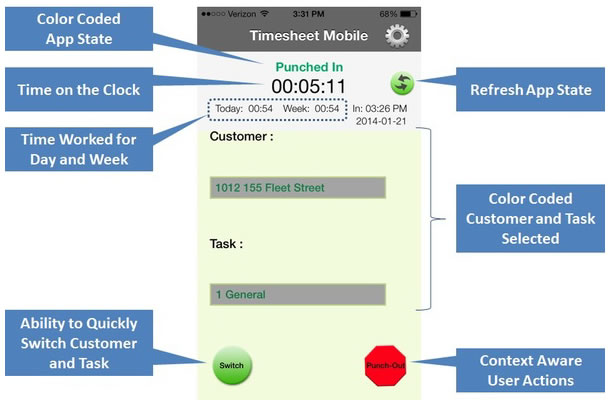 Context aware action buttons and the ability to quickly switch between Customers or Tasks (optional) help clarify the user's choices and prevent incorrect punches, dramatically reducing the administrative effort of creating time sheets at the end of the pay period. Turn off Customers and Tasks for a simple to use punch clock for your employees. Employees can still add notes, enter mileage or use the Check Point feature with the latest versions of the app.
Employees are now able to sync the Customer and Task lists with the up to date information on your Timesheet MobileTM account and can still manually add and delete items when dispatched to a new Customer or Task not yet configured on the server. Real-time sync with the server also makes sure the user and the administrator are seeing the same information and app state, eliminating confusion about who is on and off the clock.