It's a challenging time to be in the building business. With labor costs up and competition as stiff as ever, every efficiency you gain in terms of time is invaluable. Strides in areas such as enhanced employee scheduling and better materials calculation make a big difference.
Timesheet Mobile's employee time clock app, for instance, helps builders keep track of their employees, cut down on timesheet fraud and more quickly calculate payroll. In addition, its workforce management solution, Project+, offers construction project managers a number of collaboration tools, such as a team messaging feature that allows team members to communicate in real-time and create and edit checklists for tracking the progress of current projects.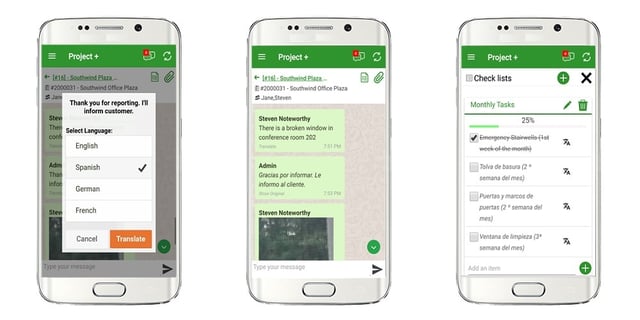 There are other helpful construction apps that reduce the time and effort it takes on nearly every construction-related task imaginable, from soliciting and comparing bids to holding safety meetings for employees. Here are ten of our favorites.
Safety Meeting App
The Safety Meeting App is a useful tool to ensure that you and your mobile workforce are operating in accordance with OSHA safety regulations and guidelines. The app offers safety checklists for nearly three dozen trades, including carpentry, drilling and mining, drywall, fencing, framing and many others. Even better, it allows you to organize safety meetings that employees can attend remotely by reading the safety documents on their device and listening to the meeting leader discuss the subject. Finally, you can use the app to create incident reports that other members of the team can immediately view.
JobFLEX
Coming up with quotes for prospects, many of whom you never hear from again, presents a major time burden for construction industry professionals. JobFLEX is a cutting edge tool that can help you get quotes calculated and client-ready much more quickly, allowing more time to focus on projects and customer service. A limited version of the app is available for free and offers a single user up to six quotes and invoices per month. For $20 a month, however, you can have an unlimited number of users and generate an unlimited number of quotes and invoices.
DroneDeploy
This sophisticated app is a natural addition to the digital toolbox of the thousands of builders who are harnessing the insight of airborne technology for their projects. With DroneDeploy, all you have to do is select an area on a map that you want analyzed and the drone and the app will do the rest. The drone will launch an automated flight (no remote control necessary) and capture aerial footage of the selected area. Within minutes you'll be able to generate 3D maps that you can easily share with other members of the team, clients or regulatory agencies.
DEWALT Mobile Pro
This construction estimator is only available for Apple users, but DEWALT Mobile Pro has earned rave reviews from users. In addition to a variety of functions to help with complex job site math, the app keeps a history of all of your calculations on record and allows you to create a list of "favorite" calculations, a shortcut that will shave even more time off the estimating process. Critically, you can easily share the estimates via email with coworkers and clients, along with a treasure trove of reference materials that builders may find useful.
TrueLook Photography
TrueLook offers a package of services that keep builders connected to their job sites 24/7 with top-notch aerial photography and video provided by fixed cameras, robotic pitz cameras and drones. If there isn't a conventional power supply handy, TrueLook even offers solar-powered options. These features allow construction managers working remotely to keep on an eye on the project site at all times. Most importantly, all of this is available from any device, including your smartphone.
Construction Master PRO
Construction Master Pro has been a trusted construction project management software of the trades for decades. The advent of the the smartphone has made it even more helpful for tradesmen who are on the move and trying to get quick, precise answers to the myriad of mathematical puzzles that underpin every successful construction project, from weight per volume conversions to advanced circular calculations. It's a particularly useful tool to have handy when discussing a project with a client who might not have time to watch you run the numbers the old fashioned way.
BuildCalc
Described as "an advanced construction calculator for professionals," BuildCalc boasts dozens of features to cut down time on design modeling, material estimation and conversions. By punching in the area or length of a room, for instance, the app will produce an immediate estimate on the number of drywall sheets you'll need for the job. Perhaps its most notable offering is their stair analysis, which provides you all of the critical information you need when designing staircases, such as the number of threads, incline angle, stringer length and finished floor-to-floor rise.
SmartBid
SmartBid is the ultimate tool for contractors and subcontractors who are looking for a more efficient way to manage bids. Through the app, you can send invitations to bid, quickly identify which bidders are qualified and easily compare competing bids side-by-side. The app also tracks and provides information on subcontractor compliance and can harness all of the data to generate project metrics. Significantly, SmartBid users have access to live call support, weekly training sessions and a large library of training resources.
OSHA Heat Safety Tool
Courtesy of the U.S. federal government, this app helps you quickly figure out the risk that the day's weather poses to workers on the job site. By simply entering the temperature and humidity, you quickly instantly get information on the risk level and the safety measures you should take to ensure your workers don't suffer from dehydration, heat strokes or exhaustion. The app's advice is nuanced, and includes guidance on how weather conditions should shape how often workers need breaks for water and rest and what type of protective gear they should be wearing.
Build.com
Described by one review site as the "Amazon of construction apps," Build is a convenient one-stop-shop for home improvement products: appliances, lighting, HVAC, flooring, hardware and much more. The app offers items from 16 different building websites and allows you to develop custom "favorite" lists and set up alerts for sales or price drops. The basic app is geared towards small projects for the typical homeowner, but there is also a professional version that offers a dedicated account representative, access to product experts and discounts.