Construction is second only to the restaurant industry when it comes to risk and volatility. And while the amount of work fluctuates from surges to lulls, many promising trends may help to stabilize the industry in the coming year. New technology is making construction safer, faster and more cost-effective. However, the results of the presidential election, along with other factors, may shape these catalysts for change within the industry.
Here are five of the biggest trends that will likely impact the construction industry over the coming years.
Labor shortage continues

The shortage of qualified workers continues to plague the construction industry. Things have improved since the mortgage crisis rocked the industry eight years ago, but Reuters recently reported that there are now 17 percent fewer workers in the field than prior to the recession.
This shortage has driven up the wages of workers and therefore the cost of building. That means builders have to work harder to prevent delays that would result in hefty overtime charges.
The good news is that the construction industry can now better manage employee hours through the use of enhanced employee tracking technology.
not only because it gives workers a timesheet punch clock that they can access on their own phones, but also because it establishes geofences that allow employers to track the location of their workers. Our exclusive Punch Prompt® alerts remind workers to clock in and clock out of their employee timesheet when they enter or exit the worksite.
Technological efficiencies

The emergence of Building Information Modeling (BIM) has already had a profound effect on the construction industry and its use will continue to grow in the next year. Like any revolutionary technology, BIM is shifting from being a tool reserved for elite companies to one that is accessible to smaller builders on tighter budgets.
Another technological development that supplements BIM is 3D laser scanning. It offers an unprecedented level of precision in modeling existing objects to help builders plan for a variety of different types of projects, from building renovations to road and bridge construction.
Builders are also tapping into the potential of unmanned aircraft to help them cut down on labor costs and expedite project completion time. Increasingly, drones are able to analyze worksites and deliver crucial data to builders about where they should deploy their workers.
Drones can also help builders cut down on excess employee hours, as well as unused materials. Their sophisticated photographic analysis of building sites allows builders to identify the amount of waste the project is generating, as well as quickly calculate the amount of material on hand for the project.
Safety improvements

In recent years, the construction industry has been hit hard by stiff fines and even criminal prosecution due to injuries resulting from unsafe working conditions. While having a lifelong real estate developer in the White House might mean the Department of Labor will be less aggressive in pursuing violations, builders can protect their profits and their workers by implementing safer new technology.
Drones, for example, can significantly improve safety by going into sensitive areas of sites where a conscientious foreman would be hard-pressed to send one of his workers. Geofencing applications can also play a role in enhancing safety by letting builders know that every worker has left the area before performing a blasting operation, for instance.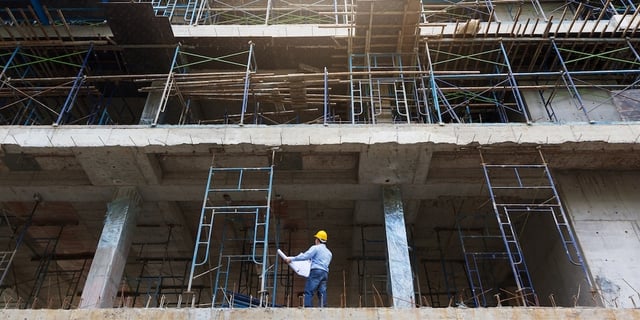 The green economy

Despite affordable fuel sources, the trend towards energy-efficient buildings will continue to grow. Not only has environmental awareness increased, leading government and private businesses to favor green buildings, but many people generally believe that energy-efficient construction will save them money on electricity long term.
The green trend is becoming the go-to in new construction – from large public sector and commercial projects to single-family homes. Homeowners and businesses see the value in investing in green construction. While the up front costs may be higher, a highly efficient, LEED-certified property is likely to significantly increase in value over the years.
Earlier this year, the World Green Building Trends 2016 SmartMarket Report projected that the sustainable materials market will be worth $234 billion by 2019.
A president who wants to build

President-elect Donald Trump has stated he plans to spend $1 trillion on infrastructure in the coming years. "We are going to fix our inner cities and rebuild our highways, bridges, tunnels, airports, schools, hospitals," Trump said during his first speech following his Election night victory. "We're going to rebuild our infrastructure, which will become, by the way, second to none. And we will put millions of our people to work as we rebuild it."
The President-Elect's building ambitions won't come to fruition, however, unless Congress is on board. Most Republican leaders of the Senate and House of Representatives have yet to comment on Trump's infrastructure plan, while some have voiced concern over costs. However, a number of Democrats have said they are eager to work with the new president on an infrastructure package, meaning that Trump may not need the total support of his party to get the job done.
While the stock market has surged since the election, many of Trump's campaign promises regarding immigration and trade have sparked concern in the business community. Reducing access to affordable labor and inexpensive foreign materials and products could have an adverse effect on the construction industry and the economy as a whole.