This Holiday season, unwrap TWO gifts in the form of top-requested features: PTO (Paid Time Off) and Printable Reports.
Vacations are in high demand this time of year and you need a simple way to track your employees' paid time off. PTO can now be added within the Timesheets tab in your dashboard. Admins can add PTO for the week and can select from QuickBooks payroll items – ensuring the imported times map to the correct items within QuickBooks – or create your own codes if you are not using QuickBooks. Cumulative year-to-date PTO is included for admins to review when adding PTO time for their employees.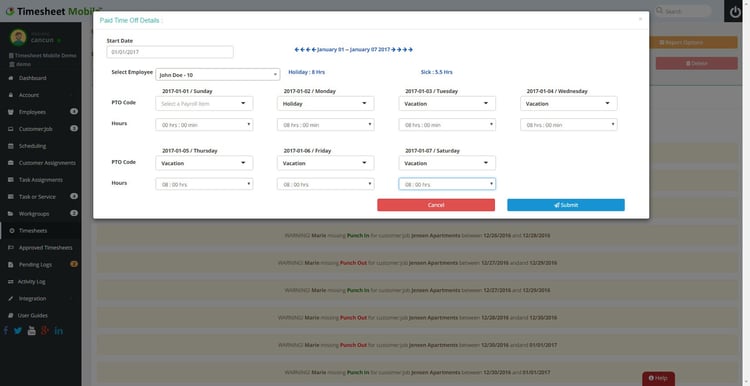 Need a hard copy of your reports? The Printable Reports feature offers several PDF templates suitable for printing and using in any manual employee sign-off process. Find this option when hovering over the printer icon in the Timesheets tab in your dashboard.
Our most used template provides the daily subtotal, which includes totals for each shift, day, week and selected period. Geofence status information is included so that employers and admins know which shifts were "at site" and which included punch ins/outs not at the designated work sites.
We also offer templates showing detailed shift and customer:job data, as well as a group report, showing differences between scheduled times and actual work times completed.
We're always here to help with free 24/7 customer support. Give us a call at 1.888.275.3098.