Given the important role that customer service plays in the hospitality industry, one might believe that these businesses are more resistant to the technological trends that are reshaping other sectors of the economy, such as manufacturing, construction and retail sales.
In fact, all kinds of technology – from online ads to web-based employee punch clock systems – are empowering hotels, catering services, spas and restaurants to do everything from marketing to employee management more effectively than ever before. And most businesses are just getting started.
Point of Sale systems
How you get a customer to pay for services is no small detail in the hospitality sector. A system that makes payment as easy as possible for both you and the customer is crucial.
The ongoing evolution of credit card payment processing technology has been a significant one for both hospitality businesses and customers. There's no longer any excuse to turn away a customer because he or she doesn't have cash on hand. Accepting credit cards has become simple and inexpensive for even the most humble mom-and-pop operation.
Even more importantly, new POS systems allow customers to make reservations online, reducing the amount of manpower needed for restaurants and hotels to devote to taking and returning phone calls – or telling disappointed customers that there will be an hour wait.
Finally, enhanced POS systems allow businesses to stay in touch with customers and turn them into regulars. When customers choose to receive their receipts by email, for instance, you now have a permanent way to market directly to them in the future, including notifying them of specials when business is slow.
Daily deals and loyalty systems
The internet has empowered customers to more easily compare and contrast competing hotels, restaurants and other industry services. Thirty years ago, it was nearly impossible for the average American to figure out the best-priced hotel for a trip to New York City without the assistance of a travel agent. Now, all you have to do is check out Travelocity or Yelp. The pressure is on businesses to deliver good value like never before – or risk racking up negative online reviews.
However, the internet has also provided businesses with powerful tools to win customers. Online advertising and daily deal sites, such as Groupon, have provided resourceful companies (particularly new ones that lack an established reputation) with an effective way to lure in those who might otherwise overlook their services. Deal sites are particularly useful for those in the tourism industry that are trying to bring in additional revenue during the off-season, as well as for those aiming to crack a market dominated by big players.
While Groupon is great for finding new customers, increasingly sophisticated loyalty programs provide you with effective ways to keep your customers from drifting away. Some businesses design their own programs, or contract with a vendor that manages the program for them. Others join a large network, such as Voila Hotel, which provides members with a broad network of hotels around the world where they can earn and redeem points.
Recent business articles have predicted that blockchain, the technology that underpins bitcoins, will further revolutionize the rewards game by allowing customers to tap into an even broader, centralized network of loyalty programs. The change is necessary, they argue, because consumers struggle to redeem the awards they accumulate across so many disparate loyalty programs.
Employee time tracking systems
Timesheets solutions are helping all kinds of hospitality businesses track employees and keep a closer watch over wages, but the impact is particularly pronounced for companies that rely heavily on mobile workers, such as catering services. For businesses that depend on largely unsupervised workers, the smartphone revolution has provided an easy way to ensure that employees are getting to where they're supposed to be and not getting paid for hours they didn't work.
Employers can pay a monthly fee to access a service like Timesheet Mobile, where their workers can simply download a free timesheet app to their phone and use it to record punch in time, view schedules and communicate with their team. On the clock employee locations are monitored as workers navigate designated jobsites. The geofence feature allows managers to easily set up a virtual perimeter around the work site. If an employee goes outside that designated boundary, the app notifies the worker and manager.
Using an
also offers businesses greater insight into operations. A catering company, for instance, can quickly identify potential issues in the workforce, such as a team member with a high rate of tardiness or someone not taking their mandated rest breaks. These data points allow business leaders to identify best practices or proactively tackle any problems that may be brewing beneath the surface.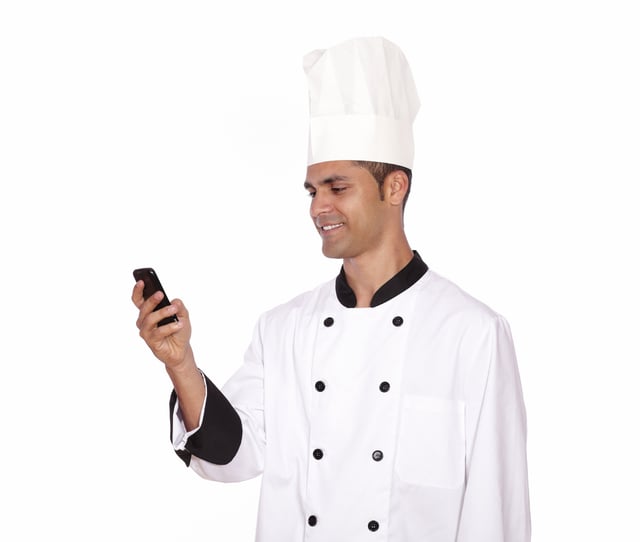 Robots
It's likely that fast food restaurants replacing human servers with self-order kiosks are only the tip of the iceberg when it comes to automation in the hospitality industry.
One potentially transformative example comes from Moley, a robotics firm, which claims to have invented the "world's first robotic kitchen." The robot is equipped with an oven, a dishwasher, an electric stove and, most importantly, two hands that the company claims it can use to cut, mix, flip and whisk with the finesse of a five-star chef. The current version is only a prototype, but Moley claims that it is within striking distance of becoming a mass market product.
Robots are also gradually transforming the delivery of food. For instance, Starship Technologies has been described as "adorable," six-wheeled robots that have begun making food deliveries in a number of major European cities. The robots, which wheel across streets and sidewalks, avoid the time-consuming process of finding parking that delivery drivers frequently confront in large cities.
For catering services, which depend on timely bulk delivery of prepared food, robotic chefs and robotic deliverers may not entirely supplant human labor, but they could allow businesses far greater staffing flexibility as well as reduce uncertainty about wages, particularly overtime costs.
Mobile devices
The simple fact that a majority of consumers now have smartphones opens up all kinds of opportunities in the hospitality sector to deliver better customer service.
For restaurants, diners can put themselves on the waiting list of a popular brunch spot and get notified when they've reached the top of the list. On the other hand, eateries have to be extra careful about negative reviews, as even foot traffic customers are likely to do some online research before stepping through the door.
While hotels are facing record competition from online alternatives, such as Airbnb, they can do a lot to make the lodging experience far more convenient for guests. Increasingly, guests will be able to check in and check out without having to wait for a receptionist to deal with them late at night. In fact, keys may soon be rendered obsolete, as hotels put in place smart locks that can be opened by scanning the bar code on your mobile reservation receipt.
Finally, rather than having to hire kitchen staff to provide room service, hotels can provide guests with a number of nearby eateries to order from using their own app. The restaurants get more business, the hotel takes a cut of the sale, and the customer receives a broad range of dining options to choose from.
The human touch still counts
Hotels, restaurants and other businesses that operate on tight margins should look to embrace technological innovations that will help them cut costs or boost productivity. After all, customers want services to be both affordable and efficient. However, much like the healthcare sector, there will always be a place in the hospitality industry for personal connection. A robot cannot replace the bond formed between the owner of a bed & breakfast and the guests she is serving a home-cooked meal. Nor can it give deliver tourists recommendations about local cuisine with the same charm as the waiter who was born and raised in the area. Despite the reliance on and ubitquitous nature of technology, people still seek social interaction and many get it through traveling, dining out or catering a party.