Getting employees to work more effectively together is one of the guiding tenets of successful project management and workforce management. In recent years, a plethora of collaboration tools have taken the workplace by storm. Whether they're being used at the same job site or miles away from each other, these technologies offer workers convenient, user-friendly ways of communicating and sharing work with each other.
But new communication and collaboration systems can only reach their full potential if they're utilized properly – beyond just basic operation of the tools. The surrounding workplace and management culture is just as important as the systems themselves.
What to consider before introducing a collaboration app
Team collaboration apps and group chat apps are popular for a reason. There are plenty of business leaders who can tell you why a particular tool is the best chat app for business, but don't buy into the hype until you've thought about how that technology will be integrated into your existing processes. Consider exactly how you and your employees will use the solution and how it will improve business performance.
Get feedback from employees
No matter what industry you're in and what skills your workers have, it's important that employees feel that they have a role in shaping how things get done. While technological change is often inevitable and necessary, workers are more likely to embrace the new system if they feel their needs were discussed during the process.
Consider workers in the trades who may know relatively little about team communication apps that have become popular in white collar settings, such as Trello, Asana, Podio or Slack. They might not have ever imagined that instant messaging and photo-sharing would be part of their work at the job site. Listen to your workers and help them feel at ease when adapting to new systems. Be mindful that an app earning rave reviews from Silicon Valley programmers will probably not work as well for a caterer who speaks limited English.
Just choose one
New tools work best when everyone is on the same page with a product and not distracted or overwhelmed by even more technology. It's up to your company or team to settle on one app in which all of your interactions are centralized. Encourage your employees to use this technology exclusively for any questions or comments that don't require a phone call. Try as much as possible to direct them away from text messages and other apps.
Consolidating the collaboration within one tool might require some guidance from management about why it's important that the team stick to one platform. Part of that will be leading by example. If an employee sends you an email, respond by sending them a direct message through your preferred collaboration tool. By focusing your team, you will get a quicker read on whether the platform is going to meet the needs of your workforce.
Explain what's in it for them
At the end of the day, a worker wants to understand why they will benefit from a change. When introducing a new tool, it's important that it be framed in a way that workers will appreciate, rather than resent.
For instance, when putting a new employee time tracking solution in place, it's essential to convey how the new system will not only benefit the company, but especially the employees using it. Stressing that their hours will be properly recorded, and that they will no longer have to worry about forgetting to clock in or out, or not logging those extra hours of overtime, will likely go a long way in gaining their acceptance. Think of inconveniences that workers may currently experience, and explain how the new tool could address those issues.
Set up a practical scenarios in which it would be easier for a worker to quickly notify all relevant supervisors if something is going wrong at the job site, or if additional materials are needed to complete a project. Workers can open up a group conversation and share a photo of weather damage sustained during an overnight storm and get feedback from supervisors and the rest of the team on how to approach the setback. And with tools such as
, this instant exchange of information can take place between several people speaking multiple languages! Emphasize how this platform will make it much easier for workers to communicate, keep records and track down information from past exchanges.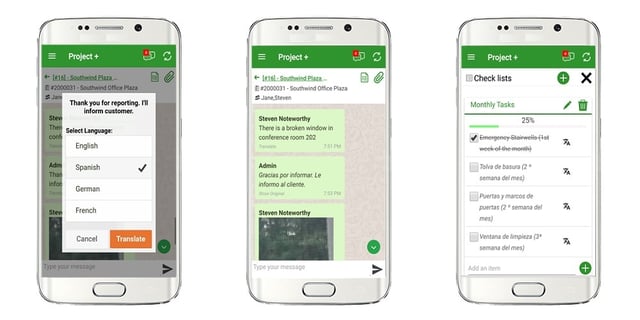 Don't do away with face-to-face interaction
Real-time communications systems provide the most effective, timely way for employees to interact with each other, particularly if they're part of a mobile workforce. But face-to-face discussions remain a key part of employees getting to know each other and trust one another. While you don't want meetings to become a burden on yourself or your employees, it's worth trying to get everybody in a room together every once in a while, even if it's just for an off-hours social function. For instance, it's helpful for mobile workers to put a face to the new supervisor who has been giving them instructions via a chat app while they are out on the job.
Address privacy concerns
You should not allow a new collaboration tool to be viewed as "Big Brother." Employees collaborate best when they're working with people they know and have become comfortable with. In particular, they need to know that it's ok to make mistakes. That dynamic is often challenging to achieve when the boss comes to the job site, whether in real-life or cyberspace.
It's best to allow your workers some leeway to have conversations that you or other immediate supervisors are not involved in. If your company uses the popular Slack app, for instance, don't ask to be added to every project channel that employees set up. If you're receiving notifications about every bit of communication, they'll likely stop using the tool altogether.
Conduct an inventory of skills
Introducing new technology to a mobile workforce can end up creating more work if you don't take care to assess your workers' technical skills beforehand. Not only are there bound to be major differences in terms of experience amongst employees, but there will most likely be generational and cultural barriers that make it more challenging for some employees to get on board. An explanation that sounds simple and intuitive to some of your younger workers might be completely baffling to some of your veteran employees.
Ask employees about their awareness and experience with team collaboration software and arrange tutorials designed specifically for workers who will experience the steepest learning curve. Give them a forum to ask basic questions about the app functions so they can become more accustomed with the technology in time.
Start simple
If you're dealing with employees who are likely to be intimidated by a whole new way of communicating, then it might be best not to overwhelm them with all of the different features of the new system. In the beginning, focus on introducing the simplest, most important concepts of the tool such as the group chat or checklist function.
It's likely unrealistic that an employee will remember everything they're told in the introductory tutorial. What's most important during the first lesson is to emphasize the basic functionality of the tool and explain how it is going to add value. Let users gradually expand their capabilities as they learn on the job and adjust to a new and streamlined means of communication.